Acne vulgaris, or just Acne, is a fairly common, but a painful and often stressful disease, which is faced by most of the 'young ones' (especially adolescents). Owing to its affect on 'the face' of a person, it not only causes the pain associated with the disease, but also leads to anxiety, stress, lowered self-esteem or even suicides (in extreme cases). This article has thus been initiated to provide information about the disease from causes to cure, apart from being a platform for discussions related to Acne.
An indicative image of Acne (courtesy: wikimedia)
---
 |  NOTE
  |
If you voted

No

to the

poll above

(i.e you never got any acne in life), then congratulations for having some

out of the world genetic make-up!

Because, almost every individual on this earth has once/many a times in life, suffered from Acne in one form or the other!
---
What exactly
Acne
is?
Acne
(or pimples)
are
result of the blockage of the hair follicles
(pores in the human skin: can be observed through a magnifying glass), which are actually connected to oil glands (sebaceous glands) located underneath the skin. An oily liquid, called sebum, is produced by these glands. Apart from hairs growing out of the follicle, sebum carries out the dead skin cells on the surface. It's when these follicles get blocked that a pimple/acne develops (leading to an accumulation of sebum under the skin). Bacteria tend to grow/infect the blocked follicles filled with keratin and lipid making the condition even worse.
Events leading to Acne (courtesy: wikimedia)
---
---
Types of
Acne
Often people live with the ignorance that "those red-rashy-puss filled" bumps on the face are typical acne! But the truth is that Acne are of various types; and in fact, some of the most common beauty loop-holes associated with face 'are actually acne' only. Even Blackheads and  whiteheads are also two types of Acne!
Following are the various types of acne:
a)
Blackheads
b)
Whiteheads
c)
Papules & Pustules
d)
Back Acne
e)
Acne conglobata
---
Blackheads
Blackheads are one of the most common types of Acne faced by innumerable people across the globe.  Also called as
open comedones,
blackheads are created out of plugging of the hair follicle and subsequent pushing of the sebum through to the surface. This oil/sebum turns black in color, upon exposure to the air, and buildup of melanin-skin's dark pigment.
Blackheads are mostly caused to those people whose skin poduces excess of oil.
Quote:It's thus a huge myth that blackheads are caused by dirt, the truth is that they are Acne; and are a result of oxidation of the oil pushed out of plugged follicles & buildup of melanin.
Source:http://www.acneskincare.tips/wp-content/uploads/2014/10/blackhead.jpg
---
Whiteheads
White heads are also amongst the most common type of Acne that affect almost everyone (once or manytimes in life). Also called as
closed comedones,
whiteheads appear on one's skin in the form of a white/creamy bump. As you must have understood from the name (closed comedones), whiteheads appear when the clogged sebum is not exposed to the air and remains trapped in the plugged follicle.
---
Papules and Pustules
Papules and pustules are painful/inflammatory forms of acne, which develop when the walls of the clogged pores end up breaking out of severity/irritation.
Papules appear as closed, red small bumps surrounded by skin inflammation on the face of a person. Unlike blackheads they reveal no visible pores, neither are they white like whiteheads.  They are hard/beady when you touch them.
Pustules are actually those typical pimples that scar one's face. They are severe form of papules. These are mid-sized bumps on the face with marked white-yellow dot (pus/fluid) in the center of it. Inflammation is also associated with them.
---
Back Acne

Our back possesses a large number of oil and sweat glands. Back acne thus appear when the follicles leading to the surface for oil secretions get blocked. Puberty is often considered to be the active age for back acne with augmented symptoms in early twenties. Back acne aren't common in adults (post 20 years), though they can appear in some cases.
Trapping of heat/sweat in the body; and aberrations to skin due to friction are also known to cause back acne.
A typical case of back-acne
---
Acne conglobata (AC)
Acne conglobata (AC) is the most severe form of acne. It is highly severe, but it is rare. But when it happens, it can affect your chest, buttocks, back, shoulders, thighs, upper arms  and even your face.
AC is characterized by burrowing and interconnecting abscesses on affected region with irregular scars (both keloidal and atrophic). It is highly inflammatory (hence painful) and also leads to significant disfigurement of the region. Cysts and nodules are formed (comedones), with foul smelling seropurulent material. They have the tendency to reappear even after drainage of the material from cysts.
A sudden deterioration of existing active papules/pustules; or recrudescence of acne dormant for many years can cause AC.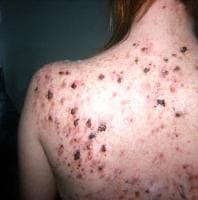 Nodules and Pustules in AC
(Source: http://img.medscape.com/pi/emed/ckb/derm...2320tn.jpg)
---
How to Avoid Acne? Tips for Skin Care
Acne has a genetic influence, but it is often triggered by following environmental stresses:
Oily skin products like moisturizers/cosmetics can cause acne, so choose the cosmetics carefully.

Oils/Fats/Grease encountered in kitchen/work.

Pressure equipment like Sports helmets that are too tight. Tight clothes can also cause acne.

Pollution and high humidity are also major contributors.

Avoid sun-tan/sun-burns.

Squeezing should be avoided.

Avoid hard scrubbing of skin.

Avoid Anxiety/Stress! (a single major contributor to all major diseases!!)

---
---
---